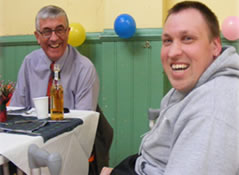 Bill & Derek met in March 2014.  Derek had not long moved from his family home to his own house in a sheltered housing complex.  This was a big change for Derek, who had always lived with his parents in a different town.  He was eager to have a Citizen Advocate to help him to speak up regarding his needs and wishes so that he could be more independent.
Bill had not long retired and was interested in connecting with someone in his local community who was struggling to have their voice heard.
"I feel that I can speak to Bill about anything.  He always puts me at ease by starting the conversation and he is really funny, so we have a great laugh together." 
Derek
In the short time that they have been matched, Derek & Bill have become good friends.  They meet most weeks for catch up.  Bill has supported Derek to chase up contractors regarding some issues he was having with renovations on his house.  They have also explored accessible pubs in the town where they live.  They managed to find a few which were wheelchair friendly, so Derek is looking forward to being able to meet up independently with his friends for a game of pool.
Derek loves Formula 1 and recently enjoyed a few days at the Grand Prix in Barcelona; much to Bill's jealousy!  Travel is another common interest, and they enjoy comparing stories of their various holidays.  Out with their meetings Bill and Derek text one another, and with Derek becoming more confident speaking on the phone they sometimes call each other for a chat or to arrange meeting up.  Derek is really good with technology, so he has been giving Bill some advice on how to use his smart phone.  Derek recently got an electric wheelchair, and now that he has been assessed by Occupational Therapy, he has been enjoying being able to go further afield with Bill.  Both Derek & Bill have enjoyed meeting one another's families.
Since meeting Bill, Derek feels that his confidence has grown a lot.  Having an independent person by his side is helping Derek to find his own voice.  Bill too feels he is learning from Derek, in terms of focusing on ability rather than disability.  They both recently joined the Board of Directors at AIA and are looking forward to being able to contribute to the development of Citizen Advocacy in Angus.