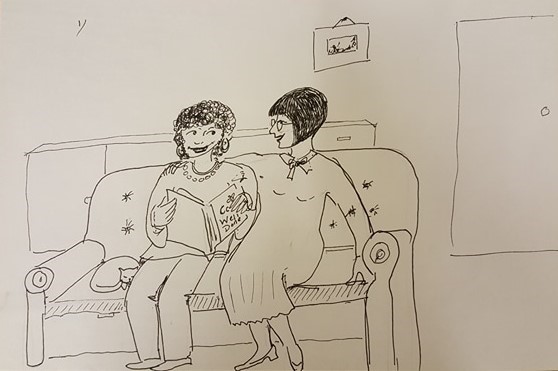 Diane and Tina were introduced as a result of targeted locality work in the Kirriemuir area. When Diane and the development worker met she didn't require advocacy support for specific issues but she was feeling socially isolated and, due to her husband's ill health, was worried about how she might have her voice heard in future. Since meeting, Diane and Tina have developed a good rapport and enjoy one another's company. Tina has been able to support Diane to reconnect to her local community and act as a sounding board when dealing with issues to do with her care.
Here is Diane & Tina's citizen advocacy journey in their own words:
I am a wheelchair user with complex medical issues, which in the main are due to advancing years and stupidly smoking for over 40 years. I took early retirement on medical grounds, as did my husband and he became my 24/7 carer. As an only child I had been surrounded by friends, cousins and relatives. This continued throughout schooling, student nurse training, and all the many different jobs, being wife and mother and much later as being a mature student and as a disability advisor. 

As I became increasingly dependent upon my wheelchair, it became a barrier to meeting friends as their houses were not wheelchair accessible and they did not have other necessary facilities. Coffee shops in my local town were not accessible due to huge steps onto very narrow pavements. Sadly, many friends had died well before their time and my best friend had moved to another county. I felt increasingly lonely and although my husband was at home, I longed for female company. Luckily my hobbies and passions are drawing, painting, crafts and words. After an operation to remove a cataract left me partially sighted in one eye, I felt bereft and isolated apart from the telephone and the occasional call. I also felt a burden to my poor husband (he's the quiet one and I am the talker) as his own interests of film and bird watching declined as he did not want to leave me on my own. To give him respite, I accepted a place at Kirriemuir Day Care, I love it as the people are friendly and we have games and quizzes and the occasional speaker.

---

Moving to Kirriemuir from London last year, I was looking for opportunities to connect with the community here and offer my time.

Over the years I had come to realise how difficult life can be for people, especially older folk and those less able, who may have to deal with authorities or any sort of big business; life these days can be complicated!  Also for various reasons including the pace of modern life, many people don't have family or friends able to spend time visiting or helping with matters official or otherwise and you do not need any special talent to make a difference to someone's daily grind.

---

This brings me to the point at which, perhaps, I should have started.     

I had compiled a quiz of Christian names which we were doing before lunch and we were to have a talk from Angus Independent Advocacy (AIA) after lunch. Although generally dreadful at recalling names, I will always remember hers, as she was the first clue of my quiz: – "Heat the Lass". After her inspiring talk I spoke to her privately about how I would like to have someone in my life whom I could build a rapport with. She gave me information and we made an appointment for Heather to see me at home. The first of many such visits. Heather was easy to talk with as she asked me about my background and said that she would go into more detail over the coming weeks. She asked about likes (chocolate, Roy Orbison, being with family and friends); also dislikes (offal or shell-fish, SPIDERS and heights). Even at this early stage she asked if there was anything which would be a 'Deal Breaker' which was "if the person was an Atheist". I don't mind if they are not a Christian or worship Buddha provided they believe in a higher being. 

---

Well, one day I spotted a poster in our local Boots, advertising a drop-in whereby anyone interested could meet the AIA team to find out about Citizen Advocacy. I went along and met Heather and once I had gained a little information, I felt very drawn to volunteering, as this seemed to be what I had been involved in un-knowingly over the past few years! After a period of discussions and preparation with Heather she decided to 'Partner' me with a local lady – Diane, as she felt that there was common ground between us.

---

Heather told me a few factors about my potential Citizen Advocate and I was especially interested to hear that she is English. The exiting time came for Heather to bring her to my home to meet with us. Heather sat on one side once introductions had been made, to observe and intervene only if the conversation was faltering.  At the end of the first visit we discussed whether we still wanted Heather to join us, as conversation had flowed so easily we decided we were ready "to go it alone".  

---

We were introduced by Heather some months before Christmas and we seemed to click straight away- there were no awkward moments on our first 'date'!

---

We meet when we can at home and we email and telephone each other. Recently Tina introduced me to a new church as I was nervous to go on my own. I was most grateful and I am now attending independently. I have enjoyed connecting with other parishioners. My husband now has to attend for renal dialysis three times a week at Ninewells, which thankfully matches my day-care times. Often Tina will come for a chat when I get home, as Fred does not arrive home until early evening. Over the future there will be plenty of time to meet or go out for outings and also to regularly meet with Heather. I realise how lucky Tina and I were, as from our first meeting there were no awkward silences. The more we get to know each other the more commonalities we have; we are able to discuss issues of the day. Housework is not subject we intend to discuss! I would like to pass on much gratitude to Angus Advocacy in their Kirriemuir project and to everyone and their teams ; not forgetting the foresight by the manager and staff of Kirriemuir day care for inviting Heather to speak to us. Without the day care and Heather's subsequent intervention I would still be a sad and lonely person.

---

I try to meet up with Diane every 10 days to two weeks and we keep in contact by telephone or email contact in between.  I enjoy my time spent visiting Diane and her husband Fred. We share a similar sense of humour and can speak on a variety of topics. I would like to think that should matters arise, Diane will feel that she can trust me to act in her interests. To date, I have not needed to step-up to a full role of Advocacy and frankly I will not know if I am successful in that role until tested. Meanwhile, I will enjoy our growing friendship.