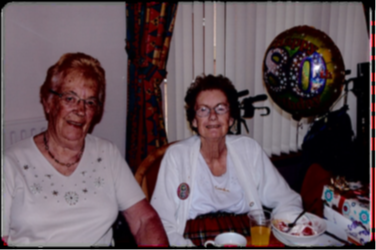 Lily & Irena were introduced in March 2013.  At that time Lily attended a local day centre and had a fairly active social life.  However, prior to meeting Irena, she was struggling to sustain equal and meaningful friendships.  She was also struggling to speak up for herself.  Lily's sister, Catherine, took care of her finances and visited when she could, but as she lived in England this wasn't always easy.
Lily & Irena had both lived in their communities for many years and were around the same age.  They were therefore able to build a rapport based on shared stories from the past and found that their shared sense of humour allowed them to chat easily.
Lily & Irena met every few weeks, usually for a cup of tea and chat (and to listen to 'old records'!).  Irena supported Lily with some practical issues, including chasing up a physiotherapy referral, applying for a taxi card and accessing other services to help her remain in her sheltered house.  Lily used to attend a local fiddle club dance once a month, but since her house mate passed away a few years ago she had stopped attending.  Irena and her husband facilitated an outing to this club which they all thoroughly enjoyed.
"Knowing that Lily had a regular visitor who could see how she was copying on her own, give her assistance on practical matters and, most importantly be the friend that Lily needed, was an enormous benefit to both Lily and myself.  As Lily's sister, it was very comforting for me to know that Lily had a real friend in Irena."
Catherine (Lily's sister)
In 2015 Lily's health started to deteriorate further and it was decided she would be best cared for in a nursing home.  Lily understood that this was for the best, but found the transition quite difficult.  However, she still had her regular visits from Irena and found that this eased some of her anxieties and the upheaval of the move.
Sadly, Lily passed away in February 2016.  Irena enjoys recalling the time they spent together, commenting that "she had become part of my life".